MIRCHA AND DAMIR IN CANADA
Canadian standoff is real!
Two HealthPros in Canada
For secondment video Mircha click here.
For secondment video Damir click here.
"The cool thing about being famous is traveling. I have always wanted to travel across seas, like to Canada and stuff." (Britney Spears, American singer)
We might not be as famous as Britney (yet!) but we can confirm that indeed the cool thing about being a HealthPros Fellow is traveling… across seas, like to Canada and stuff. So, here we are, the two of us in Toronto, Canada for a semester as our first HealthPros secondment. "Two of us" are Mircha and Damir, HealthPros Fellows from the Amsterdam University Medical Centra (Amsterdam UMC) and the University of Amsterdam (UvA).
Why Canada? Because of longstanding collaborations and partnerships between the involved institutions. Because of the opportunity to compare and expand some of the work we've done in Europe to the experience of Canada. Also, to learn about the Canadian healthcare system (some would say "systems"), its history and the changes it is going through currently, especially in Ontario. To meet influential researchers and attend some amazing courses, lectures and workshops offered by our partners and hosts here. To pave the way for more HealthPros Fellows to visit Canada next year for their secondments. And those are just the professional reasons…
Our Canadian partners and hosts are the Canadian Institute for Health Information (CIHI) and the North American Observatory on Health Systems and Policies (NAO), which is hosted by the University of Toronto's (UofT), Dalla Lana School of Public Health (DLSPH), Institute of Health Policy, Management and Evaluation (IHPME). That was a lot of names and a lot of acronyms, for sure. Talking of acronyms, they love them here! Seriously. On our first day at CIHI, we got a 5-page document print-out called "Commonly used abbreviations at CIHI". In case you wondered, for example, what HR stands for, you will find that it may stand for 3 different things, depending on the context.
So, what are we exactly doing here? Mircha: "I'm working on a paper that deals with the impact of public reporting of long-term care homes' data, spending majority of my time at CIHI." Damir: "I'm trying to do a study among Ontario hospital managers on the use of performance data for decision-making. For this I am also collaborating with the Ontario Hospital Association (OHA). We did something similar among European hospital managers earlier this year so it will be interesting to try and compare the two populations."
Avoiding that all work and no play makes Mircha and Damir dull boys (like that ever was an option), we are also trying to fully experience Toronto and Canada while here. After a surreally beautiful September, we are starting to get the feel of real Canadian Fall / Winter weather. This means that we finally have an opportunity to witness Canadian tuxedo styling in the streets but also focus on indoor activities. One indoor activity that we take very seriously is thoroughly exploring the ethnic cuisine landscape of this highly multicultural city, which some people claim is "Toronto's best kept secret". And who are we to disagree?
Oh, did we mention the completely justified stereotype of Canadians being the nicest people in the Universe? The Canadian standoff is a thing here! If you don't know what it is, google it. Seriously.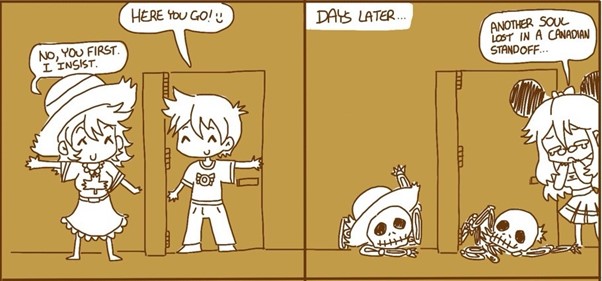 Stay tuned with usual HealthPros information channels (website, Twitter, Facebook) for more on our Canadian adventures.
Cheers and HealthProost!
Mircha and Damir