Óscar Brito Fernandes
Seconded at the Department of Public Health (Amsterdam University Medical Centers)
For secondment video click here.
Late July, I left gorgeous Budapest behind and my colleagues at the Department of Health Economics at the Corvinus University of Budapest. I spent my August in Portugal for a much-deserved Summer vacation. Time was too short to visit and do everything that I wanted, but my heart and soul were rejoicing. As of September 1st, 2019, I am living in Amsterdam.
Coming to the Netherlands was previously planned as an essential part of my training as a Healthcare Performance Intelligence professional (we are HealthPros! — I chant while writing). I am based at the Department of Public Health, located at the AMC (Amsterdam University Medical Centers). This has been a great opportunity to learn and work closely with the coordinators of the HealthPros project (Niek Klazinga and Dionne Kringos), Amsterdam-based HealthPros fellows Erica Barbazza and Véronique Bos (Damir and Mircha had to go abroad; that's how much they a-dore me!), and all other researchers I have met at the department (Angie, you're featured here! How cool is that?). One of the aims of my stay here is to continue my research on the use of health care performance data by insurers (e.g. patient-reported experience measures) to support consumer engagement with health care purchasing.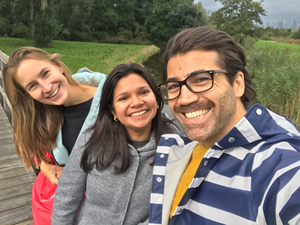 One of the positive experiences of being abroad is that of getting to live embedded in a new culture. For example, I'm cycling now! Who would have thought? Not me, for sure! It's also great to navigate through the many canals and be surprised by the stories hidden across city buildings. And not to mention how great it is to be able to visit so many interesting museums, markets and parks across Amsterdam. A recommendation: if visiting, don't miss to taste a warm and soulful stroopwafel (and do invite me, please!). Not all is great, though: the rain… oh, the rain! It was very disappointing to be here facing rainy weather and my friends back in Portugal still working on their exquisite tan. I came to realize that this is now my new reality, hence I had to adapt myself to the circumstances; now, I even cycle in the rain with the warmest smile I can mask my face with. How cool is that?
But, as Portuguese, I am made of saudade and fado. I miss being close to my family and friends, sunsets in Portuguese waters, mama's food… One year of HealthPros and already one personal key learning I'll take with me is that of being grateful for all those pieces that shape who I am, even though I don't acknowledge them daily. I guess that "All I want for Christmas is you"! Later on, the adventure continues in Budapest. Make sure to follow that across the social media channels of HealthPros.